Urban exploration can be fun. Visiting abandoned buildings and areas sounds eerie. But what happens when an entire town is abandoned? How does something like this happen? When I was younger and living in PA, my family went to pick up a car in (ironically named) Ashland, PA. They had heard about the burning ghost town Centralia, PA that was only a town over. What better way to take a joy ride in your new car than by strolling through an abandoned town with your kids right? Well I thought it was cool and I thought about that town years after I'd initially visited.






The History


I didn't remember much about trip so I wanted to go back. A couple of years ago when I was back in my hometown, B and I decided to make the trip to Centralia. I had told him all about it and he was excited. The story behind this town is that in the 1960's a fire had started in the coal mines of this city and it quickly became uncontrollable. There are many theories as to how the fire started though no one knows for sure. Firefighters tried to stop the fire but after nearly two decades of trying, it became clear that it was unable to be stopped. This was unsafe for the town as it created dangerous sink holes and toxic carbon monoxide levels. I've heard stories in my childhood that if you drive through the town and mostly the now closed road of Route 61, you can see large cracks in the road with smoke coming out. That image alone was the reason I wanted to visit and see if I could see it for myself. Route 61 is now completely closed off to the public due to the cracks in the road and not even indicated on some newer maps. Creepy.

Eventually in the 1980's the town was evacuated and the residents were relocated. But, long time residents can be stubborn and there were a lot of people who did not want to leave the town. So they stayed. As the years crept by, it became a ghost town in that no one was there and almost everything in the town was demolished except for a few buildings, homes, and the cemeteries. Keep in mind that back in the day this used to be a thriving town. I'm talking about in the late1800's. It has a fascinating history.




The most interesting thing we saw was the Odd Fellows Cemetery. I found it odd indeed that this seemed to be somewhat maintained! The deceased residents in this town outnumbered the living as I think at this point there were maybe a few residents that were allowed to finish out their lives there, and possibly some squatters and other urban explorers.

Unfortunately at this time in my life I wasn't all about taking pictures so I only have these few that I had captured on my iPhone. But I know that when I return stateside, I'll explore Centralia again and bring a nice camera with me. After walking around for a few hours we decided we were starting to get creeped out and decided it was time to go. We wouldn't have wanted to get caught there after sundown. It might have turned into the movie SILENT HILL. I say that jokingly and not jokingly because the movie and video game, Silent Hill was actually inspired by the town of Centralia. (Did you know that?) And so were quite a few other things like novels, movies, and documentaries.

Because my pictures are lacking and I want you to get a better feel for the town. I included this video I found on Youtube made by someone who explored the area. Take a look!





My work is not yet done here in Centralia. And I am interested in doing more urban exploring in the future.




Welcome to the
FRESH FACE FRIDAY BLOG HOP!
Rules for hopping:
1| Follow your host & co-hosts (first 3 links), pretty please!
2| Link up your blog's homepage or Bloglovin' page.
3| Hop around, meet new bloggers, and leave them love!
4| Have fun? Spread the word and share this blog hop with your friends!
5| Want to be a co-host? Click here for more info!
Grab a button and share the blog hop love!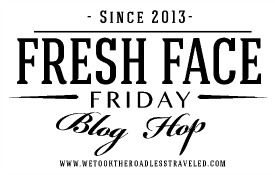 Tweet about this blog hop!
Tweet
From My Front Porch To Yours
Rooted in Thyme
Common Ground
Nancherrow
Totally Posted Tuesday